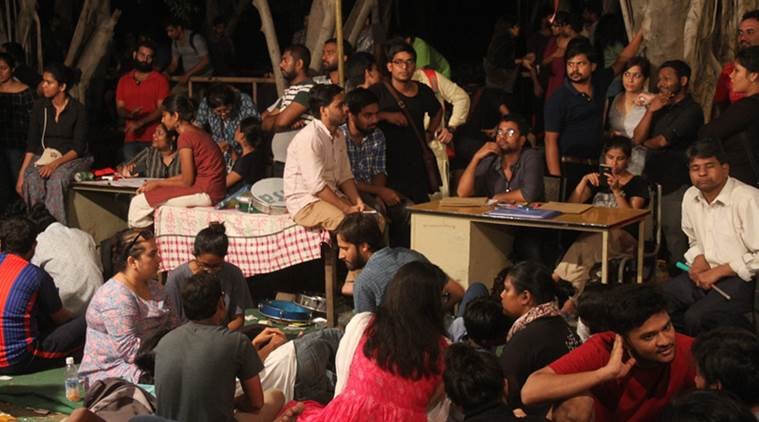 JNU saw post-polls violence during the students' body elections. (PTI/File)
The JNU administration has asked around 20 teachers, who participated in a peace march on September 17 against post-poll violence, to explain why they "ignored" the administration's "appeal" to not hold gatherings and processions on campus. The march had seen participation from hundreds.
In response, the JNU Teachers' Association (JNUTA) said this was a repeated attempt by the administration to "intimidate teachers".
"In continuation of an appeal from the administration to 'refrain from organising or participating in any public rallies or marches', issued on September 17 in view of prevailing tension on campus, this is to seek an explanation from you as to why you ignored the appeal and participated in a public march from Ganga Dhaba to Chandrabhaga Hostel on the evening of September 17. The JNU administration expects that all stakeholders would cooperate at the time of any kind of stressful situation on campus to collectively prevent any untoward incident. You are requested to send your written response by 5 pm on September 24," the Registrar wrote on September 19 to roughly 20 teachers.
JNUTA wrote to Registrar Pramod Kumar on Monday: "President JNUTA informed you through email that your notice dated September 17 was received around 5 pm, by which time… members of the university community, including teachers and students, had assembled at Ganga Dhaba… Since that day, no incidence of violence has been reported, which is a testimony to the fact that the JNU community has collectively shown their faith in JNUTA's appeal to say no to violence and yes to peace."
JNUTA president Sonajharia Minz said the notice was "not an appeal". "Just as the eruption of violence within this campus has pained us… equally shocking has been this unprecedented usurpation of power by a 'competent authority' to the extent of suspending our constitutional rights… We would like to express deep disappointment at the administration's attempt to distort the JNU community's collective appeal for peace," she said.