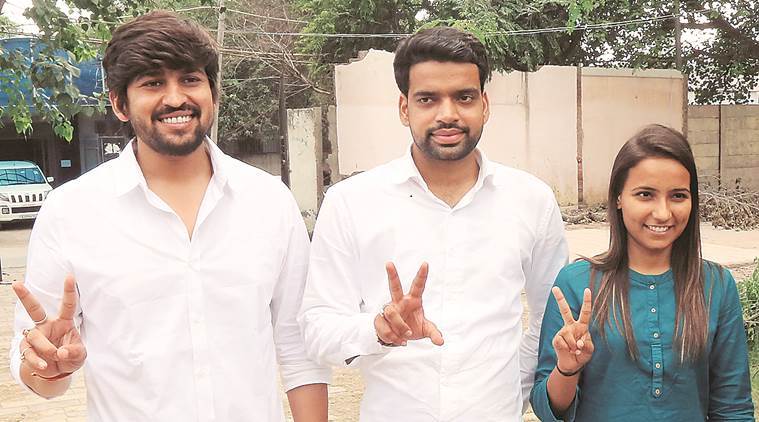 Ankiv Basoya (centre) is accused of using a forged degree.
Amid allegations that DUSU president Ankiv Basoya used a forged degree to gain admission, Delhi University's Buddhist Studies department has decided to verify certificates of all 202 students admitted in the Masters programme this year.
The department head called a meeting of the admission committee on Monday, following complaints and allegations that Basoya had submitted a fake degree from Thiruvalluvar University to get admission into DU.
The NSUI, student wing of the Congress, had circulated purported images of Basoya's degree and a letter from the university in Tamil Nadu stating that the certificate was not genuine. NSUI and other student organisations had also submitted a complaint to the university as well as the police.
"We have decided that certificates of all 202 candidates will be verified. We have decided this because there are dozen of complaints which have come to us about different students," said KTS Sarao, Head of Department, Buddhist Studies.
Asked if the certificates will be sent to the respective universities for verification, Sarao said, "For now, certificates will be verified at the level of the department."
He added that in January this year, the department had found a fake degree submitted by one of the students.
"He is an office bearer with NSUI. The matter was reported to police and they had taken documents… Eight months have passed and still his admission has not been cancelled, as due process of law has to be followed. The research committee has to decide and make a recommendation to the board, which then decides on what needs to be done. So in any such case, the department has been and will work impartially and exercise caution," said Sarao.
NSUI media co-ordinator Saimon Farooqui claimed there was a case eight months ago, but the university could not prove the degree was fake. "It was a case from eight months ago, but the university could not prove that his degree was fake. Nevertheless, our stand is clear that the university must take action against those whose degrees are fake," said Farooqui.