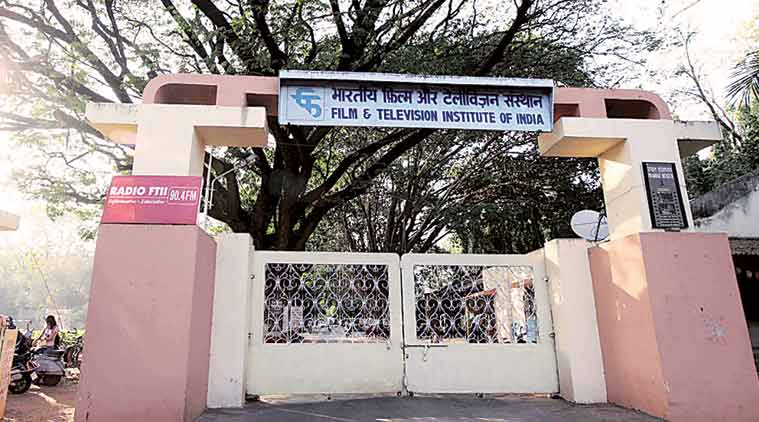 Students who are aspiring for an admission in one year television courses (four specialisations) and one year screenplay writing courses will have to pay Rs 1.65 lakh instead of Rs 48,315.
THE administration of Film and Television Institute of India (FTII) has proposed a hike in fees of various courses offered by the institute. The Academic Council of FTII, which will meet at the Films Division in Mumbai on Friday, will discuss the fee revision proposal that aims to hike the existing fee by 33 per cent to 600 per cent.
Among all courses, the two-year Diploma in Acting will be the most expensive —in case the proposal becomes effective— as students will have to shell out 6.82 lakh for the two-year course as tuition fee besides the accommodation and other fees, which too have been revised to 92,565 per annum.
The Academic Council will also discuss another proposal to fix a maximum admission age at 25 years (30 for SC/ST and 28 for OBC). Until now, the premier film school had no such age restrictions. While proposing the steep hike, the administration cites a recent draft report by Principal Director of Audit (Central) post its inspection of FTII, which said that in light of steady increase in cost of higher and specialised education, the institute should "frame a consistent policy and rationalise the tuition fee".
"Taking into consideration the Audit Para and the increase of cost in all the fields like equipment, maintenance of equipment, payment of remuneration to guest faculties etc, it's proposed to hike the fee of all courses…," reads the item no.2 of AC Agenda accessed by The Indian Express. As per the proposal, the per annum fee of Film Direction, Film Cinematography and Film Editing and Sound Recording and Sound Design (SRSD) will be increased to Rs 64,308 from present fee of Rs 48,315 per annum (33 per cent hike). All four courses are three year post graduate diploma courses. Per annum fee of two year Diploma in Acting course has been revised from Rs 48,315 to Rs 3,41,025 per annum. Another steep hike is seen in Diploma in Art Direction and Production Design Course which has been upwardly revised to Rs 1,94,872 per annum from Rs 48,315. It's a 303 per cent increase for the three year course.
Students who are aspiring for an admission in one year television courses (four specialisations) and one year screenplay writing courses will have to pay Rs 1.65 lakh instead of Rs 48,315. Besides tuition fees, hostel rent, deposits and other charges too are proposed to be almost doubled. The existing per year charges is Rs 47,500 (of which Rs 17,000 refundable) which is proposed to be revised to Rs 92,565 (refundable Rs 33,128).
In November 2008, FTII had decided to implement a 10 per cent per annum increase in all 'self-financed courses' which includes Diploma in Acting, Diploma in Art Direction, Four Certificate Courses in TV and one certificate course in Screenplay writing. However, in December 2011 this was revoked by the Governing Council "to maintain uniformity in fee structure".
Another key proposal, which is a potential bone of contention, is the proposal to fix a maximum age limit for admission. The agenda proposes to fix the maximum age for admission at 25 with a five year relaxation to SC/ST candidates and 3 year relaxation to OBC candidates."Presently there is neither upper age limit for the candidate nor is there a cap on number of attempts. It is seen that admission age varies from 21 years to 35 years. Thus, a student may find themselves difficult in adjusting among such a heterogeneous group. The teammate senior in age is more mature and his/her thinking capability is much more than other junior teammates. Junior teammates are more techno-savvy," explains the document.
FTII Director Bhupendra Kainthola said that he would not discuss the matter before it's deliberated in the meeting on Friday.
"It would be jumping the gun. Tomorrow, the Academic Council is meeting and the proposal will be placed before it and will be discussed. There will be student representatives as well. The proposals are prepared by the FTII administration in consultation with others. We will talk once the meeting is over," said Kainthola.