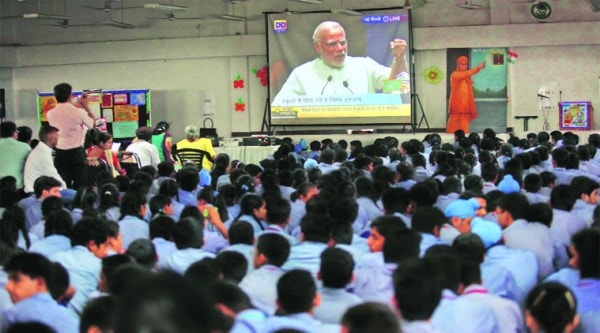 Students watch live telecast of PM Narendra Modi's speech at KBDAV School in Chandigarh on Friday. (Source: Express photo by Jaipal Singh)
During his interaction with school students across the country on Teachers' Day, Prime Minister Narendra Modi said if a girl is educated, the entire family is educated. The PM's emphasis on girls education was the manifestation of an urgent need to improve the female literacy ratio in the country.
Figures revealing increase in number of literates in the country from 2001 to 2011 speak volume about the status of female literacy. In 2001, female literacy rate was 53.67 and it could only increase up to 64.64 in 2011. While in the case of males, literacy rate was already 80.89 in 2011.
Similarly, if we analyse the data separately in different states, we will get the same scenario in all the states, specially northern states like Uttar Pradesh, Bihar, Rajasthan, Madhya Pradesh and others.
For over 40 years now, UNESCO has been celebrating International Literacy Day by reminding the international community that literacy is a human right and the foundation of all learning. The importance of observing International Literacy Day is the need to mobilize public opinion in favour of the struggle against illiteracy. According to Human Development Report-2003-UNDP, it is estimated that there are 879 million illiterate adults in the world, of which two-third are women.
Efforts towards eradication of illiteracy started receiving worldwide attention, particularly from international organizations including UNESCO. On the 8th September, 1965, the World Congress of Ministers of Education met in Tehran to discuss the problem for the first time at international level. Since then, this day has been declared as the International Literacy Day by the UNESCO at its 14th Session in November, 1966.
– See more at: http://indianexpress.com/article/india/education/slow-increase-in-female-literacy-rate-a-concern/#sthash.NhtaCGDt.dpuf